PPGMR Law Expands to Stuttgart
PPGMR Law today announced it is expanding its footprint with a new office in Stuttgart.
"During my more than 30 years of practicing law, I've been fortunate to represent the people and businesses of my hometown," said Scott Morgan. "With this new office, PPGMR will now be able to provide clients with our entire firm's comprehensive services—all from a convenient location in Arkansas County."
Since joining PPGMR in 2008, Morgan's practice has included general representation of individuals and businesses in and out of court on a wide variety of matters. He was selected as Pulaski County VOCALS 2016 Attorney of the Year. He also served two terms on the Arkansas Bar Association's executive committee and chaired the Young Lawyers section. He holds a bachelor's degree in business administration from the University of Arkansas in Fayetteville and a juris doctorate from the University of Arkansas at Little Rock Bowen School of Law. He is the son of Martha Morgan Adams and the late Dr. Jerry Morgan of Stuttgart.
Feilke's practice at PPGMR focuses on agriculture, business and litigation. He is experienced in business entity formation, crop insurance, agricultural land leases, federal farm programs and subsidy allocation. Prior to joining the firm in 2010, he served as a staff attorney for the National Agricultural Law Center in Fayetteville. He graduated cum laude with a bachelor's degree in agriculture from the University of Arkansas. He earned his juris doctorate and Master of Laws (LL.M) in agricultural and food law from the University of Arkansas School of Law in Fayetteville. Born and raised in Stuttgart, his family has been farming in Prairie County for more than 100 years and was recognized as an Arkansas Century Farm in 2013.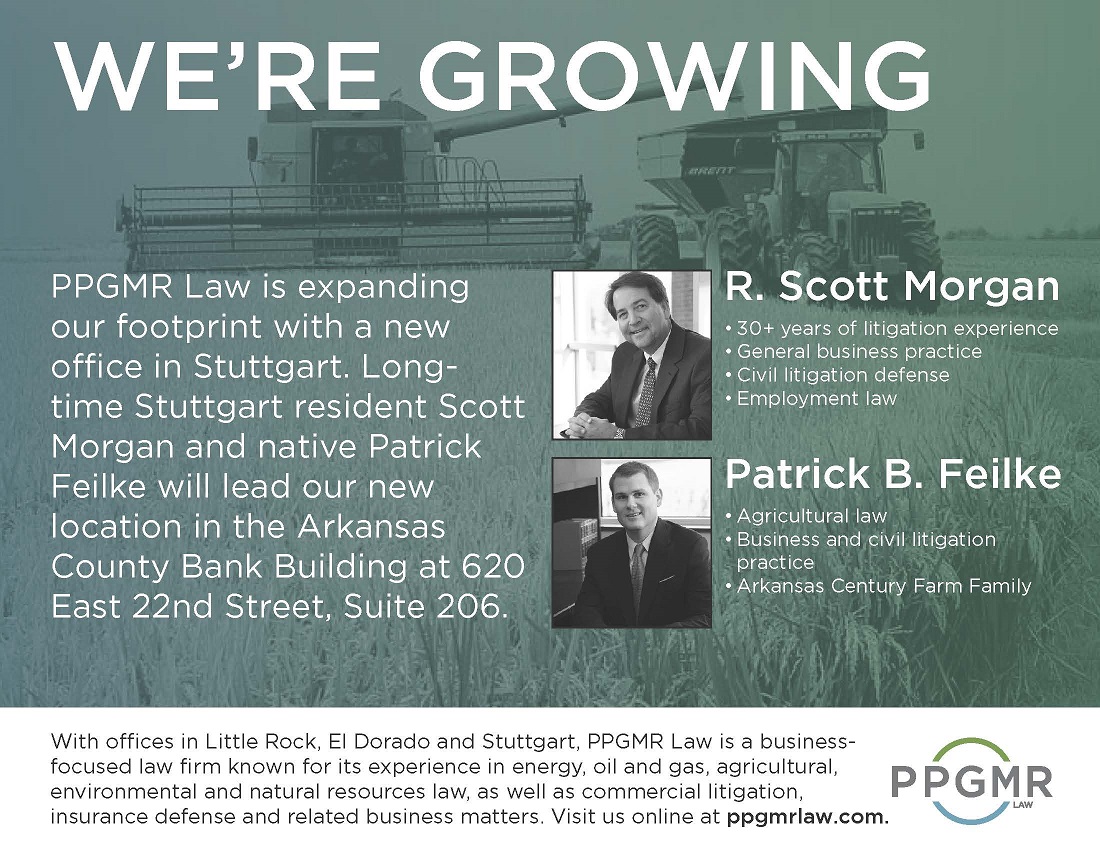 About PPGMR Law, PLLC
With offices in Little Rock, El Dorado and Stuttgart, PPGMR Law, PLLC is a full-service business-oriented law firm with widely recognized proficiency in energy, oil and gas, agricultural, environmental and natural resources law, in addition to commercial litigation, insurance defense and a range of related business matters. The firm frequently represents clients in state and federal trial and appellate courts and before administrative agencies in Arkansas and nationally. For more information, visit ppgmrlaw.com.